Moving in day 2017

Caribbean twist to moving in day 2017
This year, a total of 2,000 students found accommodation managed by Purple Frog.  With lots of the tenancies starting on 1st July, that meant Saturday was a busy one. That's why moving in day is also our favourite day of the year, as we get to see a brand new batch of students ready to start the adventure of living in their first rented property. (As well as some old faces.)
The office opened promptly at noon, with a sizeable queue of new tenants already gathered! It looked for a horrible moment moving in day 2017 would be grey but despite the clouds the weather held, in fact by 3.00 pm it was so hot that I had to go home to change into shorts!
This year is also the first year Purple Frog has moved to 100% online tenancy agreements. This means that for this year's new student tenants collecting keys was quicker. The new process meant the queue moved quickly, so once they'd enjoyed a free burger, tenants could concentrate on making themselves at home in their new tenancies.

Bring out the bunting
The Selly Oak office celebrated the day with a Caribbean theme. Lots of bunting and beach balls helped give the office a tropical feel.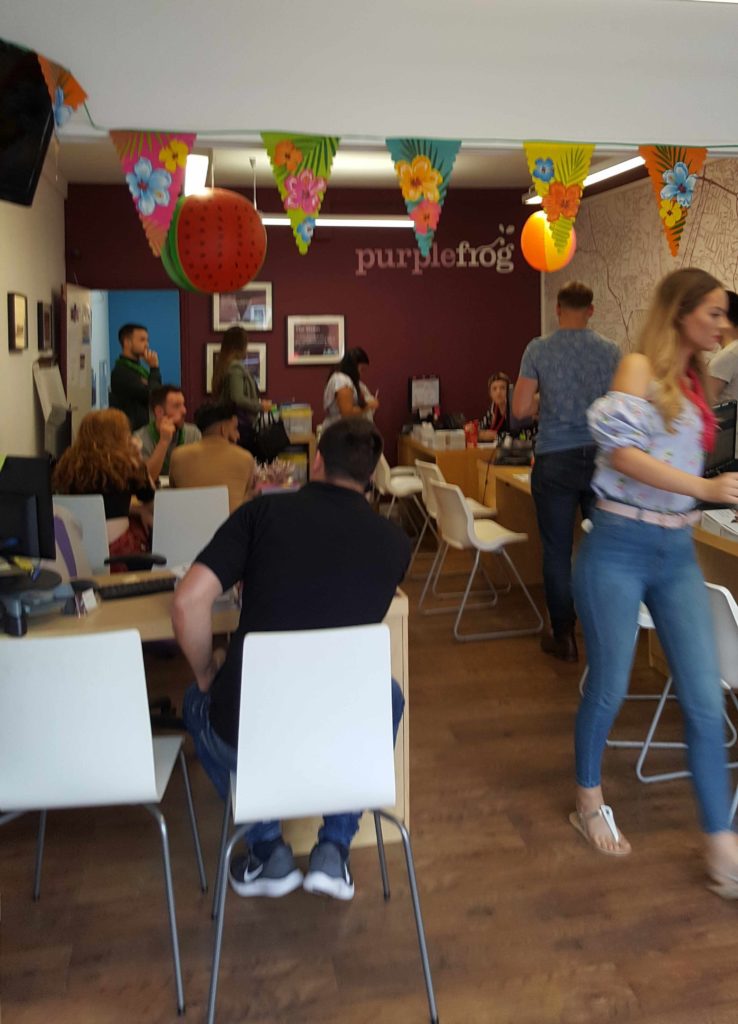 The weather gods obviously heard that we were expecting tropical living and delivered a glorious day.
Throughout the day, the three lovely ladies from Spice It Up kept up the team's spirits and kept hunger at bay. The stuffed peppers disappeared super fast. In total, they severed up 800 burgers to tenants, landlords, contractors and hungry students.
In fact, word spread throughout Selly Oak, so that employees of well-known pizza chain also stopped by to try some fine Caribbean cuisine.
As well as free food, tenants also got some exclusive student deals with local companies and the details of the free contents insurance that Purple Frog has organised with student insurance company Endsleigh.
In total, 1st July saw tenancies begin for 850 bedrooms in Birmingham, 248 for our Bristol office and 85 for Nottingham. (Nottingham's moving in day is September!)
Still smiling after a long day
Although the office was due to close at 5.00 pm, there was still trickle of late arrivals, so the office doors stayed open until 6.00 pm. There was still time for a quick hula dance, before locking up the office and heading for a well-deserved drink.
Thanks to all of the tenants who came by to collect their keys on Saturday – you helped make the day lots of fun, too.
If you are a student who is still looking for a place to live in September, there are still some rooms available. You can check them out on our student accommodation page.
To all our new tenants – thanks for choosing Purple Frog for everyone on the team!