The Student Guide to Selly Oak

The ultimate guide to living in Selly Oak for students
Selly Oak: the hub for second, third (and a few) first year University of Birmingham students. From chaotic Aldi shops to post-night out trips to Roosters, there's certain things you HAVE to experience to class yourself a true Selly Oak student.
Here are a few things I think sum up student life in Selly.
Shopping at Aldi (with everyone else)
Countless trips, amazing prices and hardly any space to move. There are deals everywhere; the excitement you see on fellow students' faces when they spot 20 Carlsberg for only £11.99 will make the trip worthwhile.
After manoeuvring your way through hungry students, it's time to pay. This may be the most stressful experience you will encounter in Selly Oak. The speed your items are scanned is record breaking, so you need to be ready to pack like your life depends on it.
Then the real fun begins, the long walk home weighed down by a week's worth of goodies. But as Aldi's always crammed with other students, you'll never be alone.
Roosters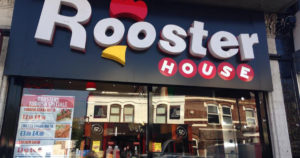 Feeling peckish after a night partying at Fab N Fresh? There is a vast array of late night treats on offer for that (not so long) trek home. The 'best' place for that post-night out meal is controversial, as there are those who claim to crave Dixy chicken and a gang of Chicken.Com lovers.
But undoubtedly, in my mind, munching on a Roosters is how you want to end your night. Kebabs, burgers, chicken. Whatever you fancy, they probably have it! Definitely somewhere to visit.
Pubs, lots of pubs

The Soak, Bristol Pear, The Goose, to name a few. There are so many pubs to choose from, all wanting to offer you the best deal. Live Sport, quiz nights, pool tables – everything you need for good night down the pub. But trust me when I say, 'one drink' will more often than not end with you and your friends stumbling home at 3 am, Roosters in hand (see above).
Getting to 9 ams
You can't call yourself a Selly Oak student until you experience being one of the flood of people heading to their early morning lectures. You'll see everything, those hanging from a night at Stuesdays to gym fanatics preparing for their second run of the day. Depending on which one you are, the early walk will be the longest or most refreshing journey; it could make or break you.
Expensive Ubers
No more £5 fares from the Vale or 5 minute strolls from Liberty Close to Broad Street. Surge charges from Selly to Broad Street can be killers. Thank god for fare splitting! Saying that, there will come a time your friends will 'forget' to split and you'll be left paying the full fare. But but don't worry, it happens to us all. I hope you don't get stitched up like I once did: £21 for one trip, no fare split, no one to help share the cost…but it turned out to be a fantastic night, so totally worth it.
These experiences are what make Selly Oak such a fantastic place to live. There's always something to do, people to see and drinks to drink. Every student will understand the struggle of 9ams after a night out, the long queues at Aldi and the difficult choice of post-night out food. The community feel makes Selly Oak a welcoming, vibrant and exciting place.
You'll never be bored!
Discover other fun stuff you need to experience, living off campus.