Last Supper Recipes Ideas for Students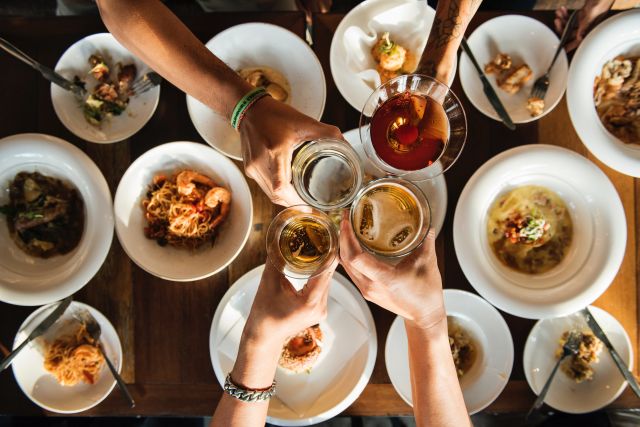 3 Recipes you should try before saying goodbye

Sad times, as it is coming to an end before we all graduate and move away *cue emotional music*. With the end of term – and for many of us the end of University – looming, grab what time you've got remaining together for some final bonding.

If you're like my housemates and I, everyone will be hard to pin down – we're all busy and tend to have conflicting schedules. But, if there's one thing that brings us all together, it's the promise of food cooked by someone else.

As I am the person who does the cooking for the house, I'd like to share three of the meals I have made for my housemates over the year.

Simple Mac and Cheese

Ingredients:

• 500g macaroni
• 700ml milk/ milk substitute
• 100g soft cheese/cheese substitute
• 300g mature cheddar/cheese alternative, grated
• Optional: bacon, sliced red onion, salt and sugar.

Add milk to a pan, add a dash of pepper and bring to a simmer.

Tip: Careful not to let it boil over as boiled milk is a pain to clean off the hob.

Add the macaroni and cook for 8-10 minutes until beginning to soften. Add in the soft and grated cheese and stir until melted. If the sauce is too thick, add more milk until the desired consistency is visible.

Optional extras:
• Fry or grill some bacon, chop up and mix through at the end.

Expert tip: To be fancy, slice two red onions, then add a small amount of oil with a pinch of salt for around 20 minutes.
Keep stirring, until starting to turn golden brown.
Add 2 tbsp of sugar, (brown if you have it) and 2 tbsp of balsamic vinegar (if you have it). Cook for 5 minutes until the sugar has dissolved. Top your mac and cheese with the caramelised onions.

Bean Tacos

Ingredients:

• 1 large onion, chopped.
• 1 chopped red chilli, or 2 tsp chilli powder.
• 2 garlic cloves, chopped.
• 1 tin of black eye beans drained and rinsed.
• 1 tin of kidney beans drained and rinsed.
• 2 tins of chopped tomatoes.
• 18 taco shells.
• Optional: fresh coriander, 1 lime, soured cream.
• Heat 1 tbsp of oil in a large frying pan and cook the onion and chilli (if using fresh) until soft.
• Add the garlic and chilli (if using powder) and cook for a further two minutes.
• Add the beans and chopped tomatoes, reduce the heat to a simmer and leave to cook for 20 minutes or until thick.
• Heat the taco shells according to the instructions on the packet.
• Serve up!

Optional extras:
• top with chopped, fresh coriander, lime wedges and sour cream.

Cottage Pie (vegan and veggie options)
Ingredients:

• 750g of beef mince/Quorn mince (or 2 x 400g cans of lentils, drained).
• 1 white onion, chopped.
• 2 celery sticks, sliced.
• 250g mushrooms, chopped.
• 1 medium courgette, chopped.
• 2 garlic cloves, grated.
• 1 x 400g tin of chopped tomatoes.
• 1 tbsp mixed herbs
• 1 vegetable stock cube.
• 1 kg of potatoes, cubed.
• Salt and pepper
• Optional: milk/milk substitute and butter/dairy free butter

On a medium-low heat, fry mince/Quorn mince (for meat or veggie option), onion and celery in oil for 5 minutes. Add the mushrooms and courgette and fry until golden brown. Add the garlic and fry for a further minute.

Once you've done, you can add carrots, and tinned tomatoes. Drained lentils (for vegan option), then add 300ml of water, and a splash or red wine (if you have it).

Season with mixed herbs and a stock cube, salt and pepper and bring to simmer.
Leave to cook, stirring to prevent sticking until it thickens. Check the seasoning and adjust to your tastes.

Meanwhile, place the potatoes in a saucepan, cover with cold water and bring to boil. Reduce the heat, cover and leave to cook until soft (roughly 15 minutes).
Preheat the oven to 200c/ fan 180c/ gas mark 6.
Drain the potatoes, return to the pan and mash. Add butter/vegan butter or milk/milk substitute to get fluffy and creamy mash.

Fill an ovenproof dish with the filling and spoon the mash on top.

Bake for 30 minutes, until golden brown and bubbling. If the top does not go golden brown enough, place under the grill for a few minutes.

There you are! Make sure everyone else chips in for some wine (or whatever your tipple might be), and sit down to enjoy a delicious meal and your last chance to build brilliant memories with your housemates.