Paying your rent by Direct Debit is a really easy way of making your payments. For the properties we manage, most tenancy agreements state that you must make your rent payments by Direct Debit.
You will receive a link from our Direct Debit company (StuRents) before the start of your tenancy. The process for creating your payment is simple.
Follow the personalised link from the email and log into your StuRents account
Agree each of the payments, by clicking yes, and then click Accept & Set Up
Add your details including the bank account number and sort code of the account from which you will pay the rent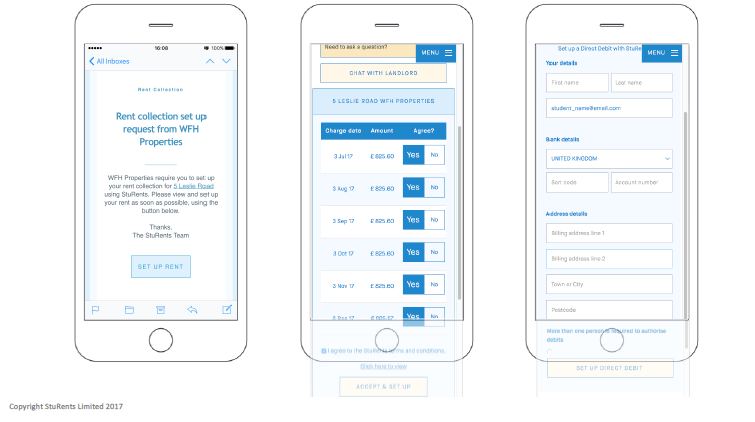 And that's it. Please note, that if someone else will be paying the rent, the details added in stage three will need to be for them. The easiest way to do this is forward the email to the person who is paying the rent and ask them to fill out the form on your behalf.
What happens if my Direct Debit doesn't go through?
If there is an issue when you set up your Direct Debit, the system will send you an email notification to let you know. Follow the directions in the email to log into your account and retry the payment.
If that doesn't work, contact our Ops team – we can also reprocess the payment for you manually.
What happens if I want to change my bank details?
Simply cancel your Direct Debit with your bank. You'll be sent an automatic email that will give you details about how and where to add your new bank details.
Can I view my rent payments?
Yes. Log onto the system to see your payment schedule.
If you're not sure about something, speak to your local branch – they'll be able to help.
Weekly to Monthly Payments
When we convert your weekly rent amount to monthly we multiply it by 52 and divide by 12 to create an average monthly rental amount. There are more than 4 weeks in a month so we can't just multiple the weekly amount by 4 to get to a monthly amount.
Direct Debit Guarantee
The Direct Debit is covered by all of the usual guarantees so in the unlikely event that there is an error you will be able to claim an refund straight away. Please click here to see more information about Direct Debit guarantees.
Avoiding Charges
Please be aware that if you don't have enough money in your account to make the payment it is likely that you will be charged a fee by your bank so it's really important to make sure you have the correct amount available.