Section 8 and 21 Notice extended

The draft emergency coronavirus bill provides protection from eviction for tenants throughout the coronavirus pandemic.
Schedule 29: Residential Tenancies: Protection From Eviction includes the following clauses which are relevant to most landlords:
The changes in legislation will take effect from the day on which the act is passed until the 30th September 2020. It is likely that the government will extend the changes made in the legislation if the pandemic continues.
Section 21 Notices
Normally, section 21 notices are used to advise tenants that landlords require them to move out of a property, either at the end of a fixed term or during a statutory periodic tenancy. They can only be issued after the first six months of a tenancy and must give at least two months' notice to tenants.
If tenants do not move out of the property at the end of that notice, landlords can use the accelerated possession procedure to evict tenants. These evictions are often described as 'no-fault' evictions, as landlords can require tenants to move out with any reason.
The government are currently consulting on removing the ability for landlords to evict tenants on this basis.
That consultation is separate from the emergency measures being brought in as part of the Coronavirus Bill which is designed to protect tenants from eviction during the pandemic.

The emergency legislation means that if a landlord wishes to evict a tenant using a Section 21 Notice, the required notice given must be a minimum of three months.
A new version of the prescribed notices has been published by the government, view it here.
Section 8 Notices
Section 8 Notices are use to evict tenants under a number of different grounds, most of which are where tenants have breached the tenancy agreement; they are most commonly used in instances where tenants have not paid their rent.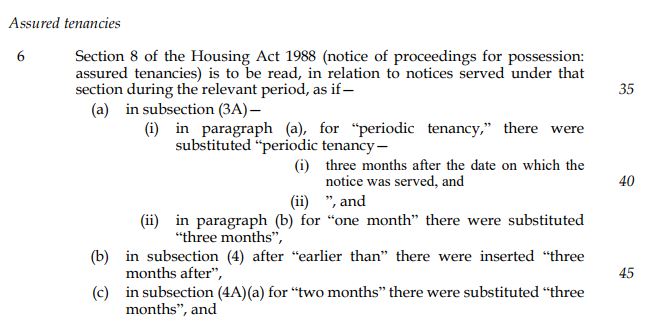 The changes to Section 8 of the Housing act mean that a landlord would have to wait a minimum of three months from issuing the notice to start court proceedings to evict a tenant.
Notices already served?
For notices served before the bill becomes law, it is unclear to me whether of two or three months' notice would be required at the point the case would be heard by a judge. My instinct is that for any cases heard by a judge between when the act is passed until the 30th September 2020 a judge would require the notice given to be three months.
The bill is currently in the House of Lords (24th March 2020), so may be clarified, I suspect that due to the emergency nature of the legislation further detail will not be provided and it will be open to interpretation by the judiciary until case law is formed.
Need help?
Email patrick@purplefrogproperty.com if you need help issuing your Section 21 Notices.
Sources:
https://publications.parliament.uk/pa/bills/lbill/58-01/110/5801110.pdf
https://services.parliament.uk/Bills/2019-21/coronavirus/documents.html